All are welcome
Meals, community and access.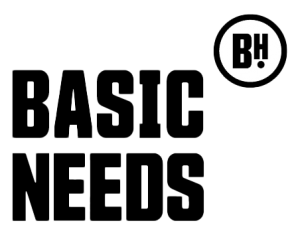 Our welcoming, low-barrier access to food and community is fundamental to build trust and rapport with adults experiencing homelessness. Our basic needs not only help our clients survive, but create a safe space to provide information and services to help them on a path to housing when they are ready.
Bridge House's Community Table dinners are nightly meals Monday through Friday from 5:00 to 6:00PM. Meals are served at Grace Commons ANNEX, 1603 Walnut (the northeast side of the intersection of 16th & Walnut), in the parking lot on the north side of the building (same location as Deacon's Closet). These meals are 'grab-and-go' due to public health regulations to mitigate the spread of COVID-19.
Community Table dinners are prepared by our Community Table Kitchen social enterprise  and are supported by our dedicated volunteers. To volunteer click here…
Bridge House outreach case management offers onsite information about housing, health care, and shelter services including our Ready to Work employment program.
Severe Weather Shelter new update phone line is:
720-663-9238
New LOCATION:  Boulder Shelter for the Homeless, 4869 Broadway. They will increase their beds to 140 on SWS evenings, and have 20-25 hotel vouchers available on SWS evenings.
---
For those seeking shelter in inclement weather, please call the Severe Weather Shelter (SWS) phone to see if they are open: 720-663-9238. The recording is scheduled to update daily by 10am. SWS will be opened from 10/1 - 11/30 when the evening  forecast is predicated to be 32 degrees or below (or 38 degrees if precipitation is forecast).  
Note: After 12/1, SWS will open nightly regardless of weather, and thus calling in each night will not be necessary. 
Note: 
Morning services end at 8am.  (shower and breakfast)
Extended Day Shelter services (until 11am) are only available on weather-triggered days (under 32 degrees as daytime high) and only available to those that utilized SWS night or morning services.
Dinner is available to those that utilize night services. 
Breakfast is available to those that utilize night or morning services. 
Lunch will not be served on extended day service dates. 
History
Path to Home navigation shelter operated from July 2017 through May 2020. As a pilot designed to combine overnight sheltering with intensive, housing-focused case management, the Path to Home model proved to be highly successful. Over 850 clients exited Path to Home with housing and support.
The lease at the Path to Home location at 2691 30th Street ended May 31, 2020 so that the property can be redeveloped into permanently affordable housing. Homeless Solutions for Boulder County still offers navigation services. Visit https://www.bouldercounty.org/departments/community-services/homeless/homeless-services/ for more information.