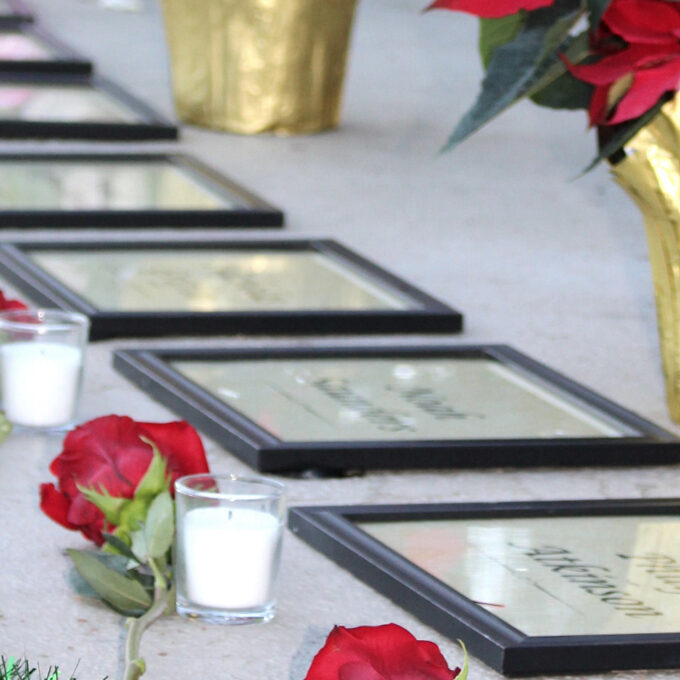 December 19, 2023 @ 2:30pm
Homeless Memorial: Day of Remembrance
The Winter Solstice marks the occasion of our annual Memorial, honoring the unhoused who have passed away in Boulder County in 2023. Feet Forward Meal followed by Memorial @Central Park Bandshell (Boulder). We are grateful to members of the community who help us to remember these individuals.
December 25, 2022 @ Noon
Christmas Meal in Partnership with ANB Bank
The annual Christmas Day Meal for those in need was hosted by Bridge House and Community Table Kitchen at the First Congregational Church in Boulder. A delicious, hot feast was prepared and served by Bridge House's social enterprise, Community Table Kitchen. Stockings filled with small gifts were also distributed to those in attendance.
September 13, 2023
9th Annual Farm to Table Dinner
Our annual fundraiser to benefit adults experiencing homelessness was a celebration, filled with stories of impact and inspiration from the Ready to Work program. Farm to Table is a unique event, providing an opportunity for our community to come together, with the belief that homelessness is a problem to be solved by all of us. This year, we were delighted to have Boulder's finest chefs and restaurants join forces with Chef John Trejo and the award-winning team at Community Table Kitchen. Thank you to Blackbelly, SALT, Brasserie Ten Ten, Dagabi Cucina, The Post Chicken and Beer, Laudisio Mobile, Law's Whiskey, BOCO Cider and Rev Kombucha for your amazing beverages and cuisine at the event!
Saturday, October 14, 2023
Denim & Emeralds
Friends, family, community and corporate partners gathered in the grand lobby of the Aurora Municipal Center to celebrate Bridge House's Ready to Work program in Aurora during its inaugural benefit that raised nearly $50,000 to help end homelessness in the Tri-Counties. RTWA Chef Chris Smith and Bridge House's Community Table Kitchen team created a menu of seasonal heavy hors d'oeuvres for guests to enjoy before Arapahoe County Commissioner Leslie Summey welcomed more than 60 supporters. Longtime friend of Bridge House City of Aurora Mayor Mike Coffman and community supporter Dr. Thomas Mayes were guest speakers and Ready To Work Board Chair Honorable Marques Ivey shared his unique perspective of Ready to Work's work-first success model from behind the bench as a courtroom judge. Graduate speaker Orion Johnson brought guests to their feet when he shared his journey to and through the Ready to Work program and his path to independent living and employment. Thank you to our event sponsors, in-kind donors, and guests for making this first Denim & Emeralds possible and contributing to its success.
October 25, 2023
Ready to Work Graduation 2023
The Ready to Work graduation ceremony celebrated over 70 men and women who successfully completed the program from 2022-2023. Thank you to NFL legend Rod Smith, our amazing guest speaker, for your inspiring words! The evening was filled with stories, laughter, tears, and we shared a delicious meal from our own social enterprise, Community Table Kitchen. Each graduate received a certificate and medallion along with a gift bag and handmade quilt. Thank you to our business sponsors and generous donors for your support of the Ready to Work program.
November 23, 2023 @4:00pm
Thanksgiving Meal
Community Table Grab and Go Dinner @St. John's Episcopal Church, 15th & Pine Streets.
Interested In Sponsoring A Bridge House Event?
If you'd Like to Stay Informed
Subscribe to our Newsletter. Select the kinds of information you want in your inbox.
General Bridge House news, Community Table Kitchen & Kids Give Back. We also invite you to engage with us on Social Media. These channels are fantastic ways to keep connected and celebrate with us as we change the world one story at a time.