A unique and highly-effective combination of employment, housing, and support that breaks the expensive cycles of homelessness, incarceration and chronic unemployment.
WE ARE UNSTOPPABLE IN THE FACE OF HOMELESSNESS.
Ready to Work operates two market-based social enterprises to employ trainees and earn revenue to support the organization.
We strive for 75% of trainees to graduate from the program with full time jobs and independent housing.
Ready to Work earns 45% of our operating budget through social enterprises.
The cost per unit at Ready to Work house is $85K in capital vs. $450K per unit for traditional housing units.
Ready to Work fills an important gap in the homeless service continuum for adults with the capacity and desire to get back to work full-time.
COLORADO'S ONLY WORK FIRST SOLUTION TO HOMELESSNESS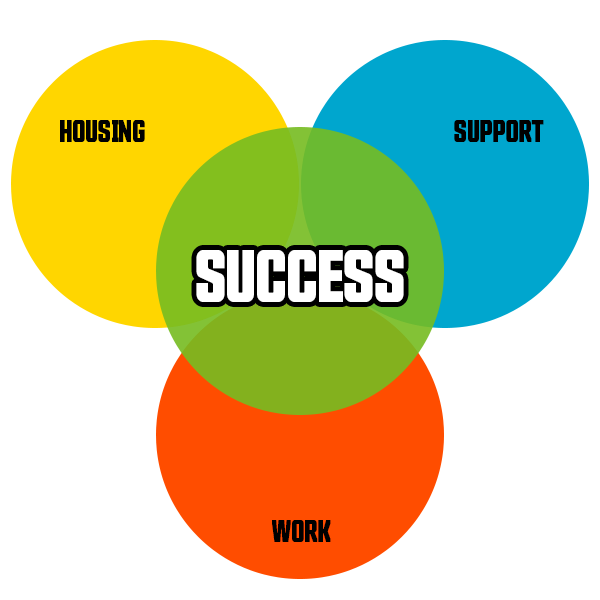 HOUSING
Congregate living in Boulder and Aurora Ready to Work House:
Provides trainees with a safe place to live in a supportive community
Has capacity is for 44 trainees in Boulder and 50 trainees in Aurora
Requires trainees pay up to 1/3 of their salary on room and board to build a rental history
Is a drug and alcohol-free living environment
SUPPORT
Supportive services for the individual and community:
Includes recovery groups, onsite medical and dental care, and parenting classes
Provides financial management and incentives to encourage trainees to save 1/3 of their income
Offers career mentoring and job readiness classes
Has aftercare services for Ready to Work Graduates to ensure long-term success in employment and housing
WORK
Employment in social enterprise:
Community Table Kitchen or the Outdoor Crew
COMMUNITY TABLE KITCHEN has four competitive lines of business – catering, cafes, wholesale and mission-driven
THE OUTDOOR CREW provides supplemental sanitation and landscaping to municipal and commercial customers

Ready to Work
Blog Updates
Read our blog and stay up to date on the exciting happenings at Ready to Work!
This week marks the 5th Anniversary of Ready to Work House at 4747 Table Mesa Drive in Boulder! On August 12, 2015 Ready to Work House opened its doors to 44 adults experiencing homelessness ready to transform their lives. Launched as a pilot with no housing in 2012, Ready to Work brought a "work-first" solution…
Read More

→