Thank You for Partnering with us!
YOUR PAYMENT IS APPRECIATED
Pay your catering invoice via credit card below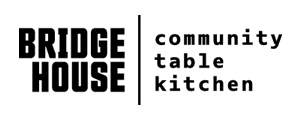 A Social enterprise of
Bridge House
John Tayer
President of the Boulder Chamber of Commerce
Molly and I had the opportunity to enjoy a fabulous dining experience last night, thanks to the generous auction purchase of Steve Wallace, at the Bridge House Community Table Kitchen . . . It wasn't just that the meal was worthy of the finest Boulder restaurant - it is the story behind the meal that is so incredibly compelling. The amazing social enterprise model that Chef John Trejo has created (in partnership with the vision of Executive Director Isabel Ames McDevitt) takes homeless individuals off the street and, through nine-months of extensive training, work experience and career coaching, prepares them for a new profession and new lease on life. Learn more about the Bridge House Community Kitchen here - https://communitytablekitchen.org - and make plans to fill your stomach and your soul with a visit to this wonderful facility.
Kira Ross
Office Manager Renewable Choice Energy
We had a great experience with CTK on Monday! Thanks so much, again. Delivery was on time, and everything was set up perfectly. James and Lauri (I hope I got their names right) did a fantastic job. The food was delicious! Everyone really enjoyed it. We really appreciate what you guys do - both the mission of the company, and the yummy food that comes out of it. 🙂 Thanks again - We'll be back!
Julie Glass
Senior HR Coordinator LogRhythm
Lunch was great. People really like the food and are happy to be supporting your organization. Can we plan to do another?
Jennifer Sheperd
Elevations Credit Union
Today was absolutely amazing!! Thank you & your entire team for a wonderful event! The food was amazing!!!!  You always do such a wonderful job!!  I have submitted the invoice to account, however, it won't go out until next week payments, so just wanted you to know! Once again thank you so much!!
Alan Halpern
Executive Director Congregation Har HaShem
Community Table catered a dinner in celebration of our Rabbi Emerita's 25th anniversary in the clergy. Given her commitment to social action and our congregation's long partnership with community organizations like Bridge House and BOHO, Community Table was the ideal partner because the choice enacted our values in addition to being a superb meal. The food was great. The menu accommodated our dietary restrictions and requirements. The price was fair. The staff were attentive. Everyone seemed to enjoy the dinner. Service went quickly. We couldn't be happier.
Alan Culpepper
Conference of World Affairs
You all were wonderful to work once again. Thank you for being so accommodating and the food was outstanding! We have heard nothing but great feedback on the meals you catered. The event was widely successful this year with record attendance numbers, we are really proud of the effort and enjoying some down time! Thank You,
Bill Obermeier
Executive Director of Dariy Arts Center
It was wonderful working with you and Bridge House. Everyone did a terrific job and the food was excellent. I'm looking forward to the next opportunity to work together. You might also like this quote from one of our patrons in attendance last night: "It was the best I've been to in Boulder because the caterers passed food to patrons as they stood in line to check in, the music was already playing when the patrons showed up which was welcoming, and the food was the best I've had at an event in Boulder. Cheers!
Heather
Director of Willow
Community Table Kitchen Catering does not disappoint. There is an elegant ease to the dishes that John creates that is both tasty and beautiful. The staff is friendly and very professional. We have used them on numerous occasions and the food has received rave reviews! The added bonus is that you are supporting a local organization that is helping and doing so much good!
Megan Barrie
University of Colorado at Boulder
We are so happy to have stumbled upon Bridge House's Community Table Kitchen. The food was hot and freshly made and our guests could not stop raving about how delicious everything tasted. Chef John and his staff were so friendly and accommodating and worked with our tight schedule effortlessly. We highly recommend catering with Community Table Kitchen and feel honored to be able to support such an amazing program.
Oh my god! What an incredible job by Chef John and the Community Table Kitchen crew! The food was delicious, healthy and enjoyed by all. I have heard so many great comments! Thank you, thank you. In 15 years of helping organize and attending these kinds of events in all kinds of locations with a variety of caterers, and this was the most delicious food! We would recommend Community Table Kitchen to anyone who wants to have a great event with happy attendees. And on top of that, the opportunity to support Bridge House's mission is especially gratifying. 
CTK Catering Customer Testimonials